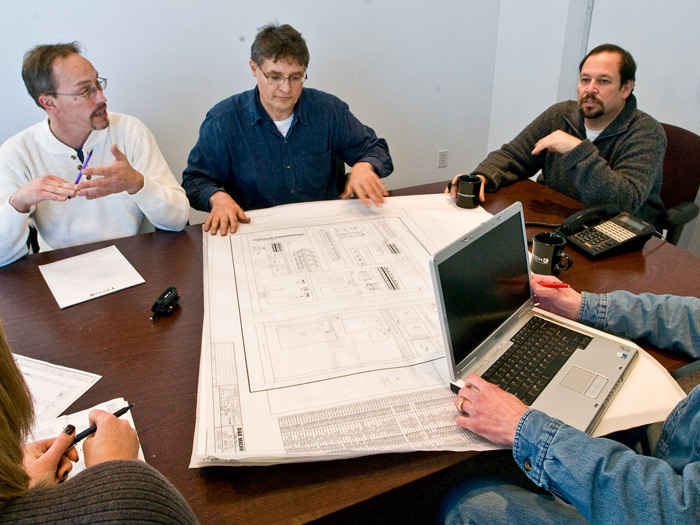 After decades of experience in design and engineering, we know automation, and we use all available equipment and technology to create the best solution for your needs.
Our electrical design engineers specialize in designing industrial control systems. We have worked with many refineries across the world and have overcome many challenges. Each success has further equipped our staff to offer the most creative and effective solutions for your automation requirements.
Contact us today to learn how Tech4 can meet your design needs.
Control and Monitoring
Monitor and control your machinery at all times with Tech4's C&M programming.  We're electrical experts, and we consult with you on the control aspects to ensure that they meet your equipment's threshold specifications.  Our engineers are familiar with control equipment and rotating machinery of all kinds including gas turbines, steam turbines, and motor drives for compressors.  For example, in a compressor, we build control and monitoring systems that safeguard its operation and monitor the temperature and vibration in the bearings, lube-oil temperature, stress levels, and process parameters and shut it down if the operation exceeds safe levels.
Rotating Equipment
Tech4 specializes in providing controlling, monitoring, and programming for rotating equipment of all kinds.  We're adept at interfacing your DCS and SCADA with the Unit C&M systems, ESD systems, and SIS.
Tech4 is skilled in developing and commissioning C&M systems for:
Centrifugal Compressors
Screw Compressors
Reciprocating Compressors
Turbo Expanders
Gas Turbines
Steam Turbines
ESD Systems
When something goes wrong, your ESD system needs to be part of the solution.  Here at Tech4, we custom program and build many different types of ESDs*.  In the programming, we itemize the issues so our clients can recognize what's wrong, isolate the issue and resolve it to get the process back up.  We design the ESDs to respond differently to unique issues so an entire plant isn't shut down for something trivial, but instead, they will shut the plant down in the event of a serious issue with danger of an explosion. Whether you need a complete ESD package, or just the programming, we have a fast turnaround time to quickly meet your needs.
* We have worked with ISA, OSHA, and other government agencies and will program the ESDs as per their requirements.
Network Communications
Access information; control the process; control your machine. Every refinery has its own communication network, and Tech4 is flexible and knowledgeable to adapt a control system solution to any network. We can help boost your industrial efficiency by using just a single terminal connected to your network to program all the PLC controllers on all links of your network. We have implemented hundreds of unique combinations over the years and we know what works and what doesn't. We're committed to providing the best solution, free from bias. We only recommend products we have thoroughly investigated and successfully applied.
Tech4 is fluent in the following network systems:
Modbus
Modbus TCP
ControlNet
DeviceNet
Ethernet
Ethernet / IP
Profibus
Sercos
Legacy Networks (DH, DH+, DH-485, RIO, Genius, SkyNet, ModBus+)
CAD and Technical Writing
Fast, precise, and logical, Tech4 provides drafting and documentation that are technically correct and clearly convey the documents' intent. Technical drawings need to be clear and concise. One look should be enough to see everything an operator needs to know. We draw all our schematics for easy reference and often show diagrams of the control systems for clear reference points. When Tech4 is used to modernize the control aspects of pre-existing equipment, we also update the existing drawings to reflect our new updates.
We continually update our hardware, software, and knowledge to ensure that our clients receive only the most advanced service. In systems that employ computer-based HMI, all documentation can be published online in HTML format allowing immediate access to system drawings or manuals via a web browser. Drawings can also be emailed, faxed, or mailed. If complete sets of project  drawings are needed, prints and markups can be sent FEDEX or UPS overnight.
Tech4 provides complete CAD and technical writing for:
Drawing Schematics
Panel Layouts
Bills of Material
Theory of Operation
Setup Operation
Troubleshooting Manuals
System Architecture
Mechanical Drawings
User's Manuals in print or on CD
Component placements and where to mount them.
FAT procedure manual with information on processes being tested with lines for signatures
Writing diagrams
Programming
Tech4 offers custom programming of new or existing control systems for any automation need. Make use of our deep knowledge in PLC platforms, motion control, tension control, and drive systems. Our extensive experience with many different automation platforms and applications provides us the experience and knowledge to accurately and efficiently develop your control and HMI programs. We only recommend control platforms and HMI/SCADA applications we thoroughly know and have successfully implemented.
Tech4 is fluent in the following PLC programming applications:
Allen-Bradley PLC
Cutler-Hammer PLC
GE-Fanuc PLC
Modicon PLC
Automation Direct
Siemens PLC
Telemechanique PLC
Triconex TMR PLC
Control System Fabrication
Tech4 specializes in fabrication of custom control systems that need more than a cookie-cutter approach. If a system needs to fit a specific enclosure, we fabricate it to the exact specifications. If the control system needs specific calibration, we custom integrate it into the system.